Flavien Kouatcha Wins the African Entrepreneurship Award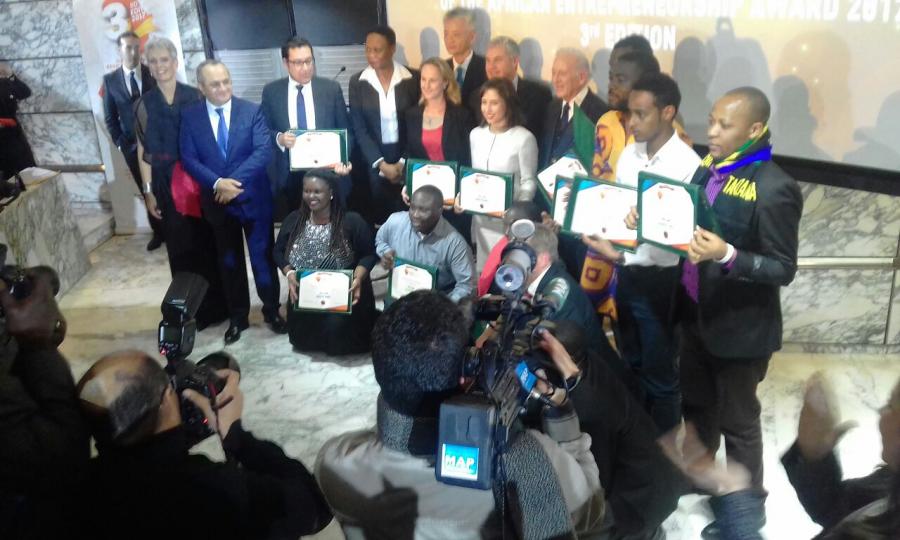 Flavien Kouatcha has been named one of the winners of the 2017 African Entrepreneurship Award by BMCE Bank of Africa. Flavien will bag $100,000 from the $1 million dollar award with 11 other winners through his Save Our Agriculture project. It should be noted that the award is in its third edition.
[trend-ad-shortcode id="4512″ title="Leaderboard Google Adsense"]
The Save Our Agriculture project is all about "rethinking how urban populations feed themselves". According to Flavien, his solution to feeding the urban population lies in having increased food production directly at the point of sale. This will help cancel the cost of transportation as well as save an enormous amount of water. Save Our Agriculture produces food and fish within the urban area using aquaponic systems.
In total, 14 Cameroonians were selected in the first round of the competition with nine remaining in the second round, later three in round 3 and two were selected in the final round.
The other Cameroonian finalist who didn't make it is Verzefé Franck, who is the founder of True-Spec Africa, a startup that has developed a device to detect true or fake pharmaceutical products.
[trend-ad-shortcode id="4512″ title="Leaderboard Google Adsense"]
The 2016 edition of the African Entrepreneurship Awards saw another Cameronian, Achiri Nji, who won $50,000 for his startup, Traveler.
The African Entrepreneurship Award is an organization within BMCE Bank of Africa. According to their website, its aim is to "enable the enablers". That is to say they want to "enable" the entrepreneur so that they can become "job enablers" in Africa.
Registration for the 4th edition of the African Entrepreneurship Award 2018 will start in early 2018. So watch out this site for information.
Don't forget to give a shout-out to Flavien Kouatcha in the comment section below.
You can get in touch now!
This content has been prepared for information purposes only. It is not intended to provide, and should not be relied on for, tax, accounting or legal advice. You need to consult your own tax, accounting or legal advisors before engaging in any transaction.
Content Writer / Blogger | Small Business Coach | Branding Expert | Entrepreneur| Dad Kermann Lobga is a copywriter, results-oriented digital marketing professional and an entrepreneur with more than 14 years of experience.