Help Yourself – App That Gives Low-cost Solutions To Health Problems In Developing Countries
Help Yourself (HY) is an Android Application developed by Maealth Inc. that provides 'actionable, educative and life-saving health information to users'. Developing countries in particular have poor access to health services and life-saving information that could help save lives in the case of emergency.
[trend-ad-shortcode id="4512″ title="Leaderboard Google Adsense"]
This problem is one of the reasons Maealth Inc. developed the Help Yourself App which uses information technology to help give quality health information, to the benefit of its users. They aim to 'strengthen national health systems' and ensure the accessibility of high-quality health care and life-saving tips that will help improve the lives of people who lack health care structures or working systems.
About 5 hospitals, both government and private are presently using Help Yourself (HY) app in Cameroon. The application was initially built to solve the health problems Cameroonians face which is common to other developing nations.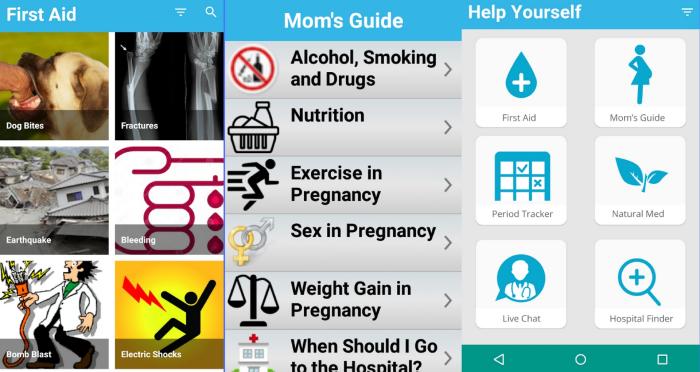 Features of Help Yourself First Aid App
Offers home remedies that work to common ailments

Offers First Aid tips: Gives life-saving tips to help sustain an individual in case of emergency

Mom's guide: Offers pregnancy advice to women who are preparing to give birth

Menstrual Period tracker for women

Hospital Finder: You can search for nearby hospitals in your locality especially in case of emergency. Contact numbers are also available.

Live Chat: You can have a Live Chat with a professional medical practitioner.
Checkout the video intro of Help Yourself (HY) app below.
[trend-ad-shortcode id="4512″ title="Leaderboard Google Adsense"]
Download
The app is available for now only for Android. You can download the app on Google Play Store.
Help Yourself (HY) is a product of Silicon Mountain, Cameroon's most popular technology hub. Visit the app website and Maealth Inc. for more.
This app is looks to be a must have in your phone. Please, share your experience about this app if you have used it in the comment section below.
You can get in touch now!
This content has been prepared for information purposes only. It is not intended to provide, and should not be relied on for, tax, accounting or legal advice. You need to consult your own tax, accounting or legal advisors before engaging in any transaction.
Content Writer / Blogger | Small Business Coach | Branding Expert | Entrepreneur| Dad Kermann Lobga is a copywriter, results-oriented digital marketing professional and an entrepreneur with more than 14 years of experience.