Make Money Writing Content Online – Content Writing Free Course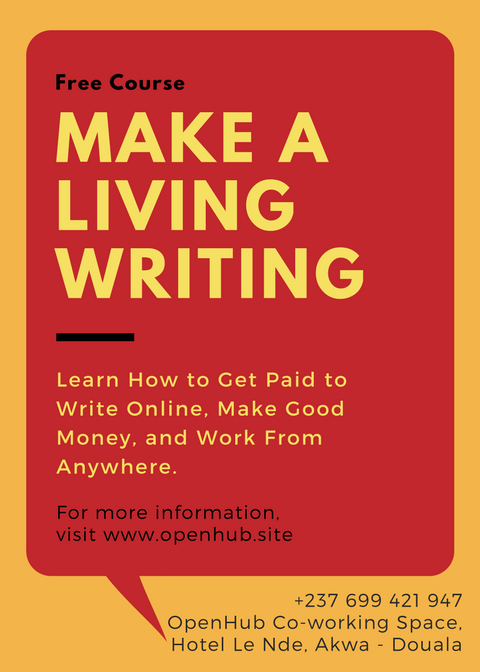 You finally found what you were looking for. You hear people are paid for writing or blogging online; and that they do it at their part time. Some take it full time and make a living out of it. You also hear that you can work from anywhere – your bedroom, on a rolling desk on your veranda listening to the birds signing.
That's true, you just need a laptop, a phone or any electronic device that can type text. That does not mean you can't use a piece of paper if you don't have any of the above devices. You can work anywhere and anytime. If you think that is what you like, then let's ride on. Register Now!
I have always dreamed of becoming a writer, not just one, but a great one. Each time I start something, I rarely finish. I was the king of procrastination. However, my dreams are still valid, but that doesn't mean I have not been writing.
To tell you the truth, I have spent the past few years of my career writing for my audience and writing for money. I write everything from construction, finance, entrepreneurship, agriculture, lifestyle, to the latest digital technology.
But then, are you really ready to write and earn a living? Content writing here doesn't mean you want to become a poet, a best-selling author, a screenwriter or some other. If that's what you have in mind, stop reading immediately. This post isn't for you. However, I am glad you are here because it might just be what you need.
[trend-ad-shortcode id="4512″ title="Leaderboard Google Adsense"]
What Am I Talking About?
I am talking about content writing for money – freelance writer. Where you write content for money. I have been a freelance content writer for some years now. In fact, I earn part of my income from writing for people online. It ranges from blogposts, newsletters, e-books, emails, website content and so on.
Sure you get me now. That's what I mean by freelance writing and that's what I do. In addition to it, I also work as a social media manager for some clients as well as I have a couple of blogs of my own.
Your clients give you the topic, you carry out research based on what the clients customer is most interested in and then you give answers to those questions they ask that will solve their problems.
Increased Demand for Good Content Writers
The blogosphere in Cameroon and Africa is growing everyday. Businesses are rushing online to sell their products or services. The demand for digital content is becoming very high. Very few of the content that we find around are good for consumption or good enough to spur the search engines to drive traffic towards the websites.
[trend-ad-shortcode id="6566″ title="Hire writers 728X90″]
Good content writers are hard to find especially when we are talking of specific niches. For now, every industry in Cameroon and Africa is in the need for writers. The niches are not yet concentrated. Content from Africa is just too small when compared to the interest the world is having on Africa.
There are many green niches in Africa be it legal, business, finance, environment, forestry, fashion, entertainment, tourism and so on. This niches are still not touched to the core. Many people who are even specialized in them don't come from Africa. It is now time for us Africans to write about us. Let's not get to know about us from the writings of a foreigner.
Nearly every business can be found online today. Content is what makes modern marketing to be most effective. It is common to find people surf the net before they buy. They need information, answers and insights on what they want to buy. With customers posing questions online everyday, where they get the best answer, they go ahead and buy from them.
[trend-ad-shortcode id="4512″ title="Leaderboard Google Adsense"]
This means quality content is what helps businesses to rank high on search engines. Even though content may not guarantee you the ranking in search results, it is very likely that company websites with good content are more likely to get one of the few top spots on search engines.
How Much Can you Make as a Content Writer?
This is a difficult question to answer. Yes, because it depends on one freelancer to the other. Some go for simple writing jobs that pay low, while others go for huge brand contracts. Some make money you can only dream of while some work full time and make a comfortable living.
However, what you will make out of writing will depend on three things:
How good you are

What you choose to write on

How much time are you willing to work
It is often difficult to know what freelance writers earn because most of them prefer to stay mute when it comes to how much they earn. According to Freelancer's Union and Upwork, in a survey carried out in 2015, 60% of freelance writers said they earned more than what their jobs could pay them and even started earning more when they quit their jobs.
So How Do You Get Started with Freelance Content Writing?
It's easy. Register for this free two-hour course that will take place on April 21, 2018 at Hotel Le Nde Akwa. The course will start at 10am and finish at midday. To know more about the course, register, confirm subscription and download course booklet.
You can get in touch now!
This content has been prepared for information purposes only. It is not intended to provide, and should not be relied on for, tax, accounting or legal advice. You need to consult your own tax, accounting or legal advisors before engaging in any transaction.
Content Writer / Blogger | Small Business Coach | Branding Expert | Entrepreneur| Dad Kermann Lobga is a copywriter, results-oriented digital marketing professional and an entrepreneur with more than 14 years of experience.