House of BKN Makes Your Natural Beauty Surface
From the outside, House of BKN looks like just another normal beauty clinic in the neighborhood, but when the door swings open, you will fall into an arena where personal care ingredients and beauty experts come together.
House of BKN
The Cosmetics, Fragrance and Beauty Stores sector in Cameroon comprises retailers that mostly sell perfumes, cosmetics and other personal grooming products. The industry concentration has increased in recent years because of the rapidly increasing demand for cosmetics, fragrance and specialty beauty products.
House of BKN has put itself aside from the others by offering to both women and men the best of cosmetics innovation you can find in terms of efficacy, quality and safety. Their vision is to become the number one choice for customers in cities in Cameroon and amongst the top leading cosmetics, fragrance and beauty store business in Cameroon.
The invisible
According to the founder, Noella F, "natural beauty is within and we of the House of BKN are here to make it surface". Noella has over 10 years experience in beauty products retail and customer relationship management.
The expert sales personnel is responsible for liaising with customers' orders to ensure every transaction goes smoothly. With their wide knowledge of cosmetics, fragrance and beauty products, they help customers choose from the array of products and services, and maintain high level customer relationship.
Make-up
House of BKN has an expert make-up artist who is adept at makeup artistry and possesses excellent color perception and artistic ability. If you are looking for an expert to correct your body imperfections as well as highlight its positive attributes, then book a rendezvous with House of BKN anytime.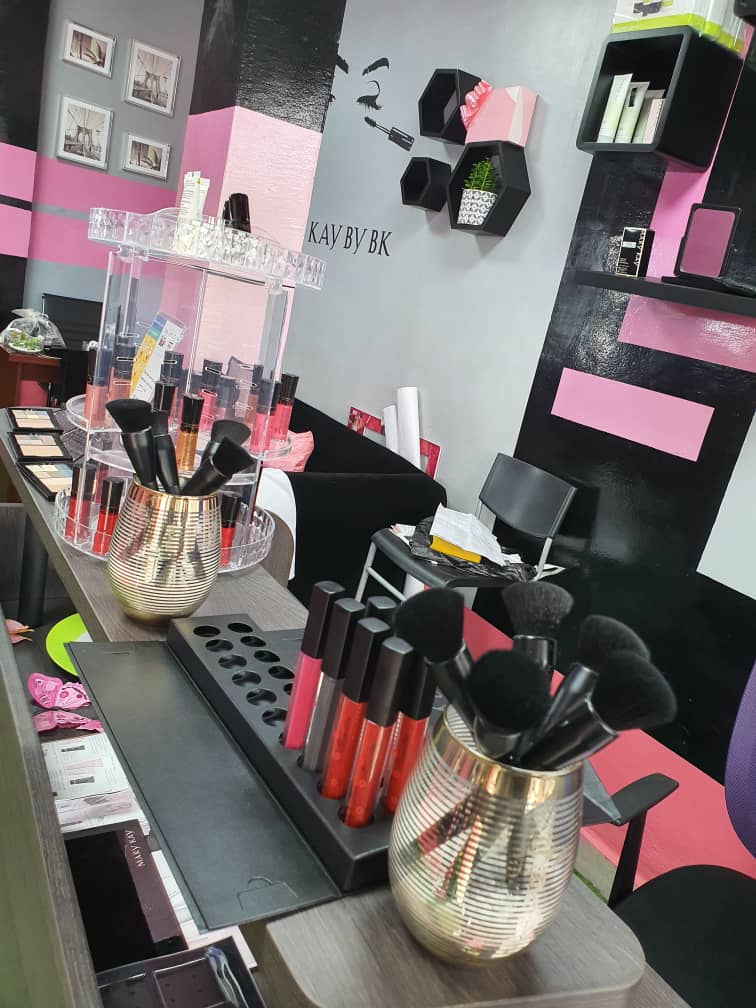 Jane, the make-up artist has a deep understanding of skin types, skin colors and make-up ingredients. She's patient, tactful, has excellent communication and interpersonal skills, can work under pressure, a good listener and has a strong ability to evaluate customer satisfaction.
Planning a beauty journey?
If you are planning to take on a beauty journey, then House of BKN will definitely provide you with a complete beauty package and personal grooming products in one destination.
Their line of products include:
skin care products
hair care and shower products
cosmetics
deodorants and shaving products
fragrances
make-up and make-over products
sun care
baby care, and other related products.
What makes House of BKN the #1
The cosmetics sector in Cameroon has seen an increase and consumers, especially the middle and upper class are opting for high quality products at moderate price. Most clients of House of BKN has chosen them due to their incentivized loyalty programs and most of all their product expertise.
Their pricing strategy is set to position their products with a shelf price that is in the mid to lower quadrant of high-quality products and brands.
Mary Kay Representative in Cameroon
As a Mary Kay representative in Cameroon, they believe you are in control of your beauty experience. Mary Kay, is one of the strongest beauty products (makeup and skin care) manufacturers in the world. Mary Kay products target the middle and high class. It has both makeup and skincare products for every age group.
You can shop at House of BKN when you want and how you want. You can shop online, via email, over the phone or one-to-one with their beauty consultant and enjoy the convenience of getting your product delivered to your home or office.
Start your beauty journey
The staff at House of BKN is always available to handle your questions. They offer expert personal services and give custom recommendations to their clients.
The Fragrance store at House of BKN is lined with every possible scent from niche brands. If you are in search of hard-to-find luxurious beauty brands in the city of Douala, then head over to House of BKN.
There, the client is in control and no validation is required. Their mission is to help you feel the best you. They take into consideration all your needs and wants and curate the best products to make you feel the best you.
The core mission of House of BKN is to build trust, be reliable, accountable and offer durable products. They strive to provide competitively priced products and have maintained customer service focus commitment to their clients, their patrons.
House of BKN is a Verified Business on OpenHub Digital
You can get in touch now!
This content has been prepared for information purposes only. It is not intended to provide, and should not be relied on for, tax, accounting or legal advice. You need to consult your own tax, accounting or legal advisors before engaging in any transaction.